Since my last post I have packed my bags, put the 'gone fishing' sign on my studio door and travelled to the UK via Korea ... arriving last thursday into a heat wave in London... or should I say Indian Summer... a more poetic term.
I took a train from Paddington to St Ives on Saturday which was spectacularly good timing .. a blissful place to be in the heat. Sunday was well spent visiting the Barbara Hepworth Museum and Gardens first up... then meeting lovely blogger
Carolyn Saxby
whom I found thoroughly delightful and good company as we made our way around her home town. Three or so hours went very quickly and I was much the wiser about this south-western spot afterwards.
It was a genuine treat to meet someone so ensconced in their environment and nourished in her artistic process by a genuine love of this place.
I have borrowed these photos from Carolyn's blog to pad out my story. If you pop over and visit her you will soon find various other sites she keeps.. Flickr, her other blog, and online shops and more!
I had to put in these images by Carolyn... especially the one's of her beachcombing finds... we didn't have much time but I saw her in action ...she has a keen eye I must say!
one of Carolyn's books full of things that inspire her.
close up
a knitting project
Unfortunately it was far too brief a visit to warrant getting all my art materials out ...as much as the place lends itself to interpretation. I bought a small book on artist Elaine Pamphilon at the Tate Gallery bookshop.
Early Morning Blush with Beach River, mixed media on canvas 120x 150 cm £5250
by Elaine Pamphilon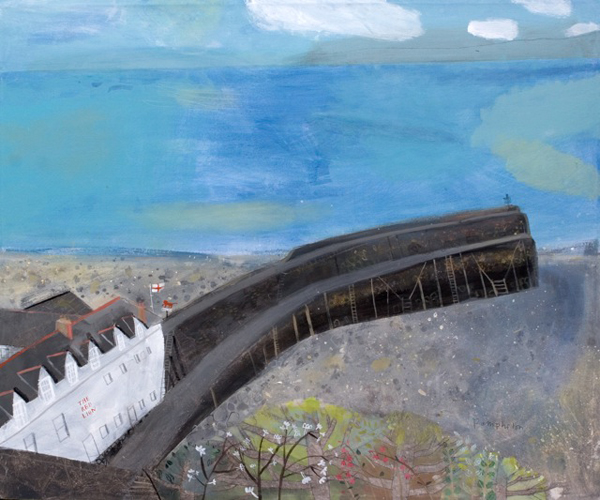 The Red Lion
Medium: Mixed media on canvas
Size: 100 x 120 cm
Whilst in the Tate St Ives Bookshop I spotted the work of Rachel Nicholson, daughter of Barbara Hepworth and Ben Nicholson. There was a comprehensive book and postcards available... after walking the narrow alleyways and drinking in the subdued colours of this place I was quite taken with this artist's work.
The book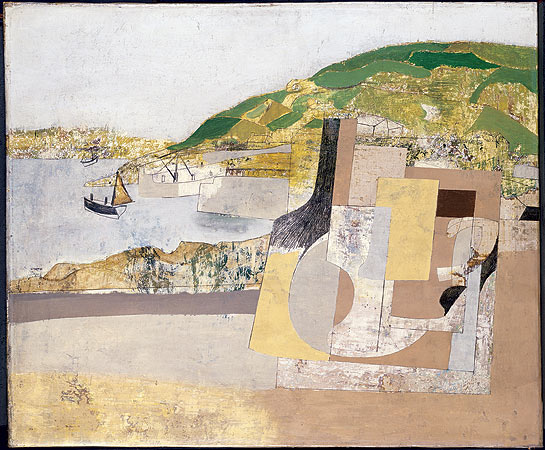 Ben Nicholsen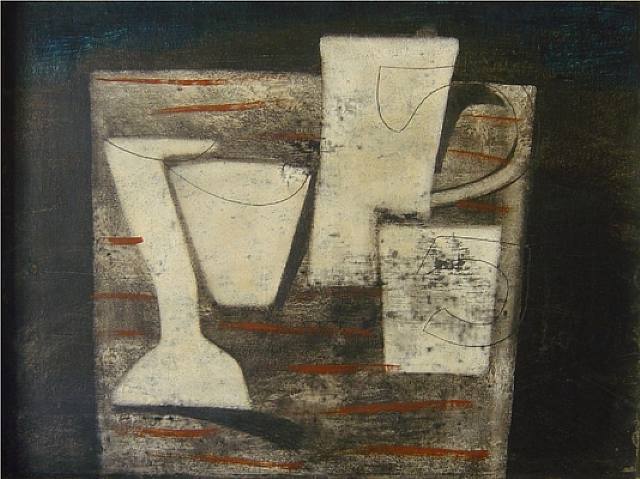 Ben Nicholson
I found the colours that were prevalent in much of the work from this area very appealing. Walking the narrow streets, observing the houses and colours was very much in keeping with the works I was viewing.
Ben Nicholson
I spent a wonderful morning at Barbara Hepworth's Garden...
It struck me how much her love of form had resonance for my work... the love of the ovoid shape and cut-out hole. I've long admired her work and hankered to see it in life... but never conciously saw what was felt rather obvious when viewing her work on Sunday.
the book



Visiting the Barbara Hepworth Museum and Sculpture Garden is a unique experience, offering a remarkable insight into the work and outlook of one of Britain's most important twentieth century artists. Sculptures in bronze, stone and wood are on display in the Museum and Garden, along with paintings, drawings and archive material.
Barbara Hepworth first came to live in Cornwall with her husband Ben Nicholson and their young family at the outbreak of war in 1939. She lived and worked in Trewyn studios, now the Hepworth Museum, from 1949 until her death in 1975. Following her wish to establish her home and studio as a museum of her work, Trewyn Studio and much of the artist's work remaining there was given to the nation and placed in the care of the Tate Gallery in 1980.
'Finding Trewyn Studio was a sort of magic', wrote Barbara Hepworth; 'here was a studio, a yard and garden where I could work in open air and space'. When she first arrived at Trewyn Studio, Hepworth was still largely preoccupied with stone and wood carving, but during the 1950s she increasingly made sculpture in bronze as well. This led her to create works on a more monumental scale, for which she used the garden as a viewing area. The bronzes now in the garden are seen in the environment for which they were created, and most are in the positions in which the artist herself placed them. The garden itself was laid out by Barbara Hepworth with help from a friend, the composer Priaulx Rainier.
Read text from her writings
here
.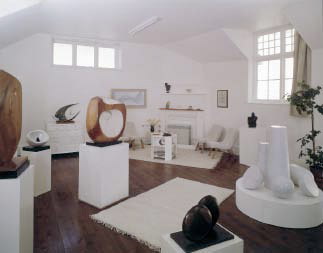 the museum
As for my artistic process... I'm spending the week at the Eden Project and Ive taken loads of photos but not yet found time to sit and draw... except for this moment yesterday.
I joined in an activity where colours had been made from common plants ... it was an enjoyable moment in a rather busy day where I certainly wore in my new shoes.
Beetroot, chili, tumeric, spirulina, coffee and more.
Hop over to the
Homage blog
to read much more about the Eden Project visit... I took quite a lot of photos. I look forward to getting more into the art process over the coming weeks... but photos will capture some of the things I want to return to at my leisure.
Thanks to all of you who have been leaving messages whilst I'm on the move and not very communicative!